Leaf's API removes the need to build and maintain multiple API integrations, file translators, boundary management tools, mapping engines, and other backend infrastructure.
Single integration for instant compatibility with data from all major brands.
Always up to date with API changes, new data models, and new providers.
Support for data types including: imagery, machine data, and field boundaries.
Translation and delivery of data in a consistent, standardized, and easy-to-use model.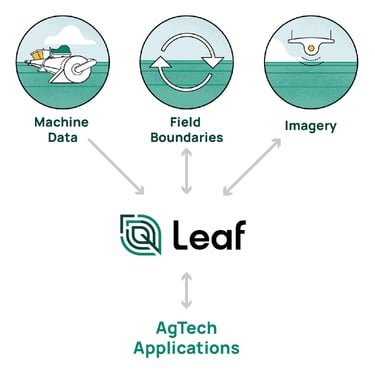 BATTLE TESTED RELIABILITY.
Leaf operates with 99.9%+ uptime, is highly scalable, and redundant.
Leaf supports a wide variety of use cases, interaction patterns, and languages.
Leaf's unified API is powering use cases across the industry including:
// Farm management tools
// Outcome-based financing
// Carbon removal marketplaces
// Lending products
// Yield forecasting
// Data sharing (data cooperatives)
// Crop marketing networks
// Equipment maintenance forecasting
// Insurance products
// Traceability applications
// Farmland valuation tools
// Agronomic recommendations
// Input marketplaces
// Supply chain management
// Dealership customer management
// Supply contract optimization
& many more
"The Leaf team is knowledgeable, easy to work with, and provides excellent support."
CUSTOMER FOCUSED.
Leaf offers dedicated account managers, real-time Slack support, and an industry leading SLA.

Flexible pricing allows companies of all sizes and

use-cases to get started and succeed with Leaf.
DEVELOPER CENTRIC.
Compendious documentation, hundreds of helper functions, sample code + demo apps, and configurable services designed for developers.
Meaningful features such as Leaf's Alerts service and Automerge service that allow developers to quickly build modern and powerful workflows.
We agonize over the right abstractions to make development as easy and powerful as possible.